Family Approved Sugar Free Chia Seed Pudding for Woman with PCOS
This Family approved Sugar Free Chia Seed Pudding promises to be a family and crowd pleaser. 
Is chia seeds good for PCOS?
Not only do chia seeds taste good (with the right recipe) but it's shown to have positive benefits for women with PCOS
.
Studies from the British Journal of Nutrition show that chia seeds can prevent, or normalise, insulin resistance (1)
. Insulin resistance is one of the symptoms of PCOS. 
Research from a 2017
Medical News Study Today
, identifies that women with PCOS are 4x more likely to develop diabetes in their lifetime
.
Do Chia Seeds Affect Hormones?
Flax Seeds are high in lignans.
Lignans
are digested
and turned into Enterolignans once they come in contact with the bacteria in the GI tract
. Enterolignans fit into estrogen receptors in the body very well. Once in place they can block the actions of the bodies estrogen.
This may have positive effects on future research for hormone related cancers like breast cancer
.
Can you drink chia seeds everyday?
Chia seeds are high in fiber. Every one ounce of chia seeds contain 11 grams of fiber. The typical american diet is low in fiber. If you are new to fiber, I would suggest a gradual increase in your fiber intake.
Too much fiber can cause digestive problems such as bloating, constipation and stomach pain
.
These symptoms can become particularly more likely to occur if you are not hydrated. Fiber pulls water from the digestive tract to help navigate its way down the track.
If you are not someone who drinks adequate water, constipation and stomach pain may be evident
. 
Are There any Side Effect of Chia Seeds?
Chia seeds are not exempt from any side effects. Chia seeds can produce an allergic reaction in people who have an allergy.
If you are unsure if you are allergic to chia seeds, speak with your physician before incorporating into your diet
. 
Chia are a rich source of Omega 3 fatty acids.
Too much Omega 3 can magnify the effects of blood  thinning medications such as aspirin and coumadin (2)
. Taking Omega 3 fatty acid rich foods may also increase your fasting blood sugars.
If you or anyone you love is looking to add chia seeds to their diet make sure to mention it to your doctor on your next check up
. 
As mentioned earlier, not to sound like a broken record. Chia seeds are infamous for their gelatinous properties. They absorb water and become a jelly like consistency.
If chia seeds
are consumed by
someone who isnt hydrated, constipation and abdominal pain may become an issue
. 
Health Benefits of Chia Seeds?
Chia seeds are nutrient dense. Each one ounce of chia seeds contains 11 grams of fiber.
Chia seeds contain 20 % of the recommended daily value of Vitamin D. Vitamin D is necessary to absorb calcium
. 
In women with PCOS, The prevalence of vitamin D deficiency is about 67-85 per cent (3).
Without enough Vitamin D the body cannot absorb calcium which may lead to osteoporosis
. 
Despite the effects that Chia Seeds may have on people who are consuming blood thinning agents
.
Its high Omega 3 contents have
been shown
to help to decrease inflammation and increase circulation
. 
Chia seeds are also packed with antioxidants. The only food more
densly
packed with antioxidants in blueberries. Want to know how to incorporate blueberries into a chia seed recipe? Click here for my
Sugar Free Blueberry Syrup
Recipe that promises to wow your family and friends. 

This antioxidant packed recipe is sure to please even the pickiest eaters. This delicious pudding has many health benefits.
Low Carb, Keto Chia Seed Pudding
January 20, 2020
: 3
: 2 min
: 4 hr
: 4 hr 2 min
: Easy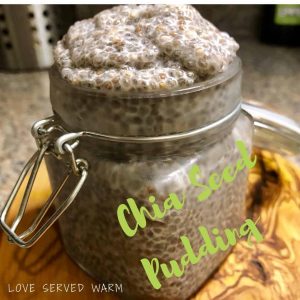 Ingredients
1/4 Cup Chia Seeds
8 ounces of Unsweetened Almond Milk
1 Tbsp Monk Fruit Sweetener
1 Tbsp Vanilla Extract
Directions
Step 1

Mix all ingredients in a air tight container.

Step 2

Ensure to mix all ingredients thoroughly.

Step 3

Let sit for at least 4 hours, best if left overnight.
Delicious pick me up for anytime of the day.
The information on this website is for information purposes only and is not intended as a substitute for medical advice from your doctor or healthcare professional.