*This post contains affiliate links. If you make a

purchase

through one of my links, I make a small commission at no extra cost to you 🙂 *
This Low Carb, Keto-friendly Berry Smoothie is everything you've been searching for. When I first started my low carb, keto lifestyle I
quickly
grew sick of eggs for breakfast. I needed some serious fluff. The pancakes and waffles kind of breakfast.
I digress…
I am still recovering from my carb addiction and my inner carbie comes out sometimes. 
What I love about this Berry smoothie is the versatility of it. You can use whatever berries you would like. You will
just
have to adjust the macros for the berry choice you selected.
Can you eat Berries on a Low Carb, Keto Diet?
Like anything good in this world… in moderation. Even though berries are the fruits lowest in sugar, they're still fruits. I'm sure fruits translate into something foreign to the dessert of the earth.
Because
Seriously
I could live stranded off of an island of
exclusively
berries and exotic beaches
.  
Nutrition Facts for Strawberries
The following nutrition information is by the USDA for 1 cup (152g) of strawberry halves.
Health Benefits of Berries for PCOS
Women with PCOS have more oxidative stress than women without. A diet high in antioxidants can combat that stress.
Another super yummy way to incorporate antioxidant-rich foods is through
Chia Seed Pudding
. 
Berries help improve blood sugar and insulin response. Women with PCOS are more likely to have blood sugar issues and insulin resistance.
Research
suggests as much as 65-75% of women with PCOS have insulin resistance. 
Berries are also high in fiber. Fiber is something within the food that our bodies cannot process. It serves the purpose of helping to clear and slow down the digestive tract.
While our bodies are
busily
trying to break down this 'fiber', our bodies' ability to absorb sugar will
be slowed
down in the process
. 
Recipes and Preparation Tips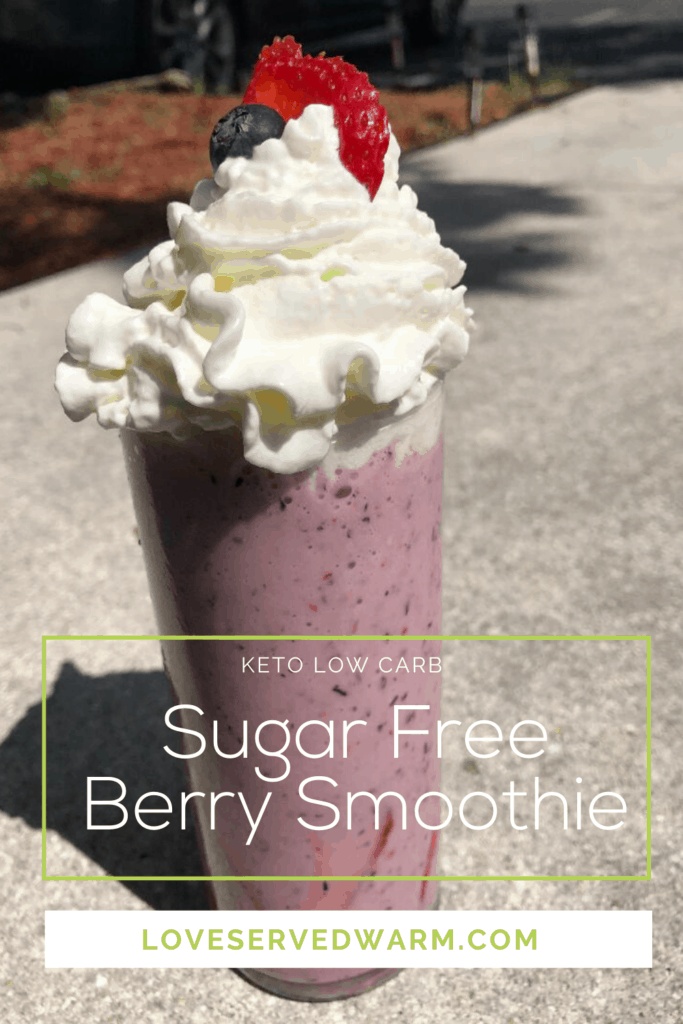 For a creamy consistency, I recommend freezing the almond milk into milk cubes in advance.
Not only does this save you time, but this also allows for a creamy thick consistency without any added dairy
.
This recipe has Monk Fruit Sweetener.
This is my personal favorite
brand. My family can't tell the difference between this sugar-free sweetener and sugar, that's a win for me. With other sweeteners, we've experienced the dreaded after mint cool sensation.
That is not the way I want to savor the after taste of the foods I've
just
eaten. Interested in a full list of some of my low carb, keto favorites that you can get on Amazon? Here are my top
favorites from amazon
. 
Keto Berry Protein Smoothie
Ingredients
1/4

cup

mixed Fresh Berries

1

scoop

Isopure Zero Carb Vanilla Protein Powder

can substitute non-dairy protein powder

1

cup

Frozen Almond Milk

 Unsweetened Vanilla

2

tbsp

 Monk Fruit Sweetener
Instructions
Freeze 1 cup of Almond milk into Ice cubes

Add 1 cup of frozen almond milk iced cubes inside the blender

Add Protein powder, berries, and Sweetener

Pulse gently until desired thickness is achieved

Garnish with whipped cream

Serve with Love and enjoy
[lt_recipe name="Keto Berry Protein Smoothie" servings="2″ prep_time="5M" cook_time="5M" total_time="10M" difficulty="Easy" print="yes" image="https://loveservedwarm.com/wp-content/uploads/2019/09/Keto-Berry-protein-smoothie-225×300.jpg" ingredients="1/4 Cup of mixed Fresh Berries;1 Scoop of Isopure Zero Carb Vanilla Protein Powder;1 Cup Frozen Almond Milk- Unsweetened Vanilla;2 Tbsp Monk Fruit Sweetener" ]Freeze 1 cup of Almond milk into Ice cubes.;Add 1 cup of frozen almond milk iced cubes inside blender. Add Protein powder, berries and Sweetener.; Pulse gently until desired thickness is achieved.; Garnish with whipped cream and Enjoy.[/lt_recipe]
Another Great Berry Recipes: